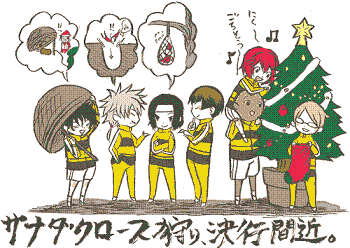 To: Everyone!
From:
marksykins

Title: Don't Hate the Player
Recipient's name: Everyone!
Rating: R
Pairing(s): Inui/Yanagi
Disclaimer: This story is based on characters and situations created by Konomi Takeshi. No money is being made and no copyright or trademark infringement is intended.
Author's Notes: Happy Holidays, everyone! I tried working in as much geekiness and age-appropriate fumbling as I could. I hope you enjoy this!



(

Don't Hate the PlayerCollapse

)



Art by ?- if you happen to know, please drop a line so the artist can be properly credited.